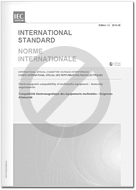 IEC 60601-2-41:2021
Medical electrical equipment - Part 2-41: Particular requirements for the basic safety and essential performance of surgical luminaires and luminaires for diagnosis
Circulation Date: 2021-09
Edition: 3.0
Language: EN-FR - bilingual english/french
Seitenzahl: 120 VDE Artno.: 250259

IEC 60601-2-41:2021 applies to the BASIC SAFETY and ESSENTIAL PERFORMANCE of SURGICAL LUMINAIRES and LUMINAIRES FOR DIAGNOSIS, hereafter referred to as ME EQUIPMENT.
If a clause or subclause is specifically intended to be applicable to ME EQUIPMENT only, or to ME SYSTEMS only, the title and content of that clause or subclause will say so. If that is not the case, the clause or subclause applies both to ME EQUIPMENT and to ME SYSTEMS, as relevant.
This particular standard does not apply to
– headlights;
– endoscopes, laparoscopes and their light sources, which are covered by IEC 60601-2-18;
– luminaires used in dentistry, which are covered by ISO 9680;
– luminaires for general purposes, which are covered by IEC 60598-2-1 and IEC 60598-2-4;
– luminaires dedicated to therapeutic purposes;
– special purpose lights with different conditions of use such as light sources intended solely for decontamination of air and surfaces, UV lights for dermatological diagnosis, slit lamps for ophthalmology, lights for surgical microscopes and lights for surgical navigation systems;
– lights connected to surgical instruments, such as luminous retractors;
– luminaires for emergency lighting, which are covered by IEC 60598-2-22.
SURGICAL LUMINAIRES and LUMINAIRES FOR DIAGNOSIS are medical devices and not general lighting equipment.
IEC 60601-2-41:2021 cancels and replaces the second edition published in 2009 and Amendment 1:2013. This edition constitutes a technical revision.
This edition includes the following significant technical changes with respect to the previous edition:
a) revised the statement of essential performance;
b) added exposure limits, test conditions, calculation methods and safety warnings related to photobiological hazards;
c) removed the terms "MINOR SURGICAL LUMINAIRES" and "MAJOR SURGICAL LUMINAIRES";
d) added definitions of MAXIMUM ILLUMINANCE DISTANCE and REFERENCE DISTANCE and allowed MANUFACTURERS to measure some performance characteristics at the REFERENCE DISTANCE that they specify;
e) replaced the region of acceptable chromaticity in (x,y) colour space with a requirement for Du,v;
f) added a requirement for acceptable drift of the lighthead when attached to the suspension system;
g) added a requirement for fluid ingress protection;
h) revised Table 201.101 of IEC 60601-2-41:2009 and IEC 60601-2-41:2009/AMD1:2013 and moved it to Annex BB;
i) specified a new device for measuring SHADOW DILUTION in a simulated cavity;
j) specified test conditions for luminaires equipped with distance sensors.